Employee of the Quarter
Employee of the 3rd  Quarter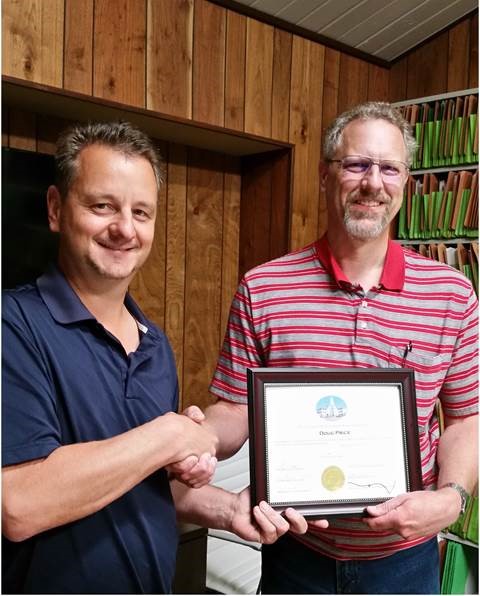 I am very pleased to present the Employee of the 3rd Quarter  to Doug Price. The City recently adopted numerous code enforcement regulations including the dangerous buildings code and regulations concerning the repair of vehicles in residential property.  The City regularly receives complaints from citizens on the condition of downtown or on dilapidated or dangerous buildings or for inoperable vehicles in residential areas.
Doug spearheaded the effort to write these codes demonstrating mastery of the subject matter, the ability to work independently, and sound judgment.   The dangerous building code that Doug prepared and that council adopted will allow the city to address citizen complaints that have gone unanswered for years.  When property owners fail to address deficiencies, the city will be able to get a court order to enter property, abate a dangerous condition, and lien the property owner.  This is something that previously was not viable due to the lack an ability to recover city funds spent performing dangerous building abatement.
Doug's knowledge and initiative have provided the City with new tools for serving its residents and improving the community. The Codes he has written will help to address a community priority and recover any tax payer money spent to abate dangerous buildings.  The code was so well written that the City Attorney's office for the City of Bremerton called Port Orchard asking questions about our ordinance and requesting a Word version of the document so that they could copy our ordinance!
Thank you Doug for a job well done, you certainly deserve the Employee of the 3rd Quarter.