Employee of the Quarter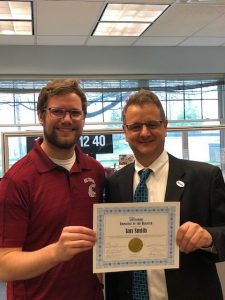 Civil Engineer I, Ian Smith, has been nominated and selected as the City's Employee of the Quarter for 4th Quarter 2019.
Ian is recognized for being an asset to our Public Works Department. In his nomination he was recognized for:
Streamlining the processes for engineering review,
Rewriting the City's Engineering Standards and Specifications (PWESS),
Improving the productivity of the department, and
Having a positive outlook while being a morale booster for the department.
Ian regularly provides exceptional customer service while going above and beyond to expedite projects. His cooking skills were even noted.
Thank you, Ian, for you contributions to the City and the Public Works Department.