Employee of the Quarter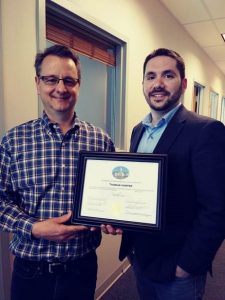 I am very pleased to present the Employee of the 2nd Quarter to Thomas Hunter.
The time has come to recognize Thomas Hunter for the his high standard of quality in the performance of his duties as well as taking on other crucial tasks with the same standard of quality and care, being, oversite of the both the water system and the sanitary sewer system (including the comprehensive plan updates), the establishment of the City GIS Platform, the development of the Cross Connection Program and the re-tooling of the PW Permitting Process. What makes Thomas stand out is that he sees the bigger picture and his performance has earned him his promotions within the Public Works Department. Thomas took on the construction administration for the 720 Prospect Remodel Project as well as  taking the lead on the Well 13 Project, the 2018 Water System Plan Update and the McCormick Communities Agreement .  Thomas has performed his duties both official and other duties as assigned, with professionalism and care.
Thomas is certainly an integral asset to the City and the City would like to thank Thomas and recognize his outstanding work in presenting him with the Employee of the 2nd Quarter.