Employee of the Quarter
Employee of the 1st Quarter
It is my pleasure to present the Employee of the First Quarter to Lisa Stone.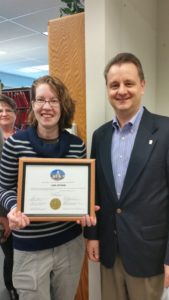 Lisa is the first point of contact that the public has when visiting the DCD office. She projects a positive image of this Department by her professional demeanor and the responses she provides to inquiries. She has an outstanding reputation with repeat customers, including some of the more challenging ones, due to her calm and confident interactions. Recently, the City received a message from Brian Pfeiffer contractor for the Cheers Bar and Grill. He said Lisa was always very helpful and prompt with all their problems and questions.  Mr. Pfeiffer has done 12 projects of this kind, in different cities and Lisa along with John Robinson were the best he has ever worked with.
Lisa is always open and responsive to new and improved ways of doing things. She reached a milestone in organizing building permit files this quarter. It has been a multi-year project to go through every address in Port Orchard and put the records in order, eliminate duplicates, and scan the documents for ease of access. This has eliminated storage space requirements and improved response time for records requests. By eliminating duplicate copies, her efforts reduced staff time and brought about a cost savings in printing and supply costs in the range of $225 for an average year. These efforts make Lisa deserving of the Employee of the 1st Quarter.