Employee of the Quarter
I am very pleased to present the Employee of the 4th Quarter to Chris Rose.
Chris has been a crucial addition to the Public Works Crew. Chris is an enthusiastic team spirited individual who is motivated to improve the City's infrastructure. Chris sets the bar high when it comes to the production of work he puts out every week. But, the one project that has stood out with Chris going above and beyond expectations was his work in performing and orchestrating an emergency repair of Port Orchard Blvd after a culvert failure. Chris used his extensive construction experience to design and build a fish friendly road repair that impressed the Washington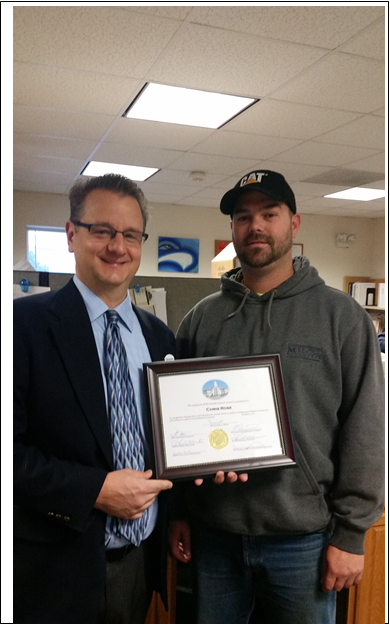 Department of Fish and Wildlife and the Suquamish Tribe. In an email to the City, they expressed how great the job looked and no follow up mitigation was necessary. They really appreciated the City's willingness to try this more habitat friendly bank protection alternative with the hope to integrate natural elements into future projects along the City's creeks and marine shoreline.
His work represented the City in a positive light to the Public, the Tribe and WDFW and the City would like to thank Chris and recognize his good work in presenting him with the Employee of the Quarter.