Employee of the Quarter
Kori has been working in both payroll and IT. She has had a challenging quarter having to deal with power outage failures as well as phone failures. She stayed late during the power outage to get the network system back up and operational before the next day. She spent several hours with Seitel troubleshooting and resolving the issues. Again, she went above and beyond when the phone system went down. She was called in on the weekend Sat/Sun to come in and resolve the phone outage. She worked to get a hold of Century Link to get them onsite to resolve the issue. In addition to addressing the issues of these IT emergencies, she works diligently every day to keep employees operational.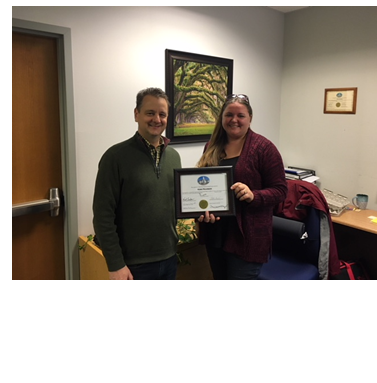 She exemplified excellent customer service by staying late and willingly coming in on the weekends to resolve IT emergencies to keep the city functioning. As an outco
me of these IT emergencies, we will be evaluating out IR procedures and identifying our response priorities. She always has a positive attitude in working with our employees resolving their IT issues.
Her work during these emergencies has kept the city running and operating with little disruption. She has embraced the concept of continuous improvement and works with team members to develop new ideas. She certainly deserves this recognition.
Congratulations Kori!