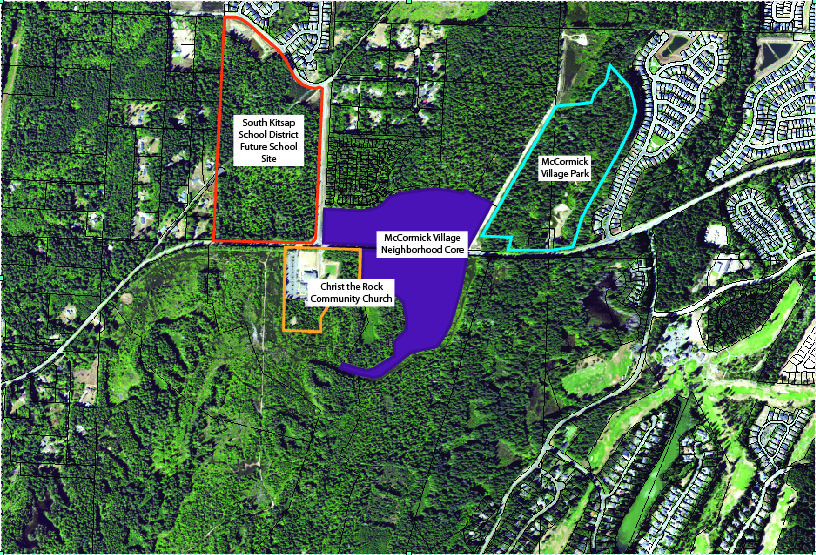 Documents

Background

In 2003, prior to annexation into the City of Port Orchard, Kitsap County completed a subarea plan for the McCormick Woods, West, and North areas (the ULID6 Subarea Plan).  The preferred development alternative in this plan, which was adopted by Kitsap County, called for an "urban village" that "provides a compatible mix of single and multi-family housing and smaller-scale commercial retail and service uses, typically in multi-story buildings".  Upon annexation by the City of these areas in 2009, and consistent with the 2003 subarea plan, the City zoned areas of McCormick North to provide an area for this urban village, but never took the step of creating a master plan for the urban village.

In May 2021, the City conducted an online public survey (see results below) to obtain input about what the community would like to see developed in this area. This was the first step toward creating a subarea plan to allow the development of the McCormick Urban Village that was envisioned back in 2003. The City will continue to reach out to the public as the subarea plan is developed.

PowerPoint Presentation by Eric Campbell, Mainstreet Property Group, to City Planning Commission (June 1, 2021)

Click to View Full Presentation by Eric Campbell to Planning Commission (June 1, 2021)

To sign up for the McCormick Urban Village Subarea Plan email list, please click here.