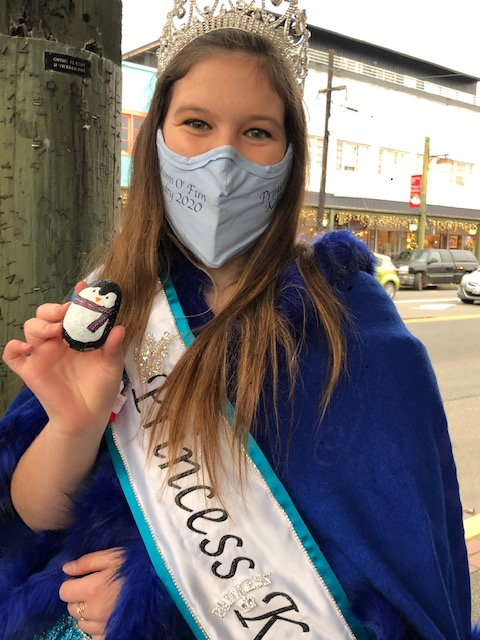 The Princess and the Penquin
Rocks of Cheer
Rock Painting and Hiding Details

Bring some joy to your friends, family and neighbors through painting rocks and hiding them in designated parks and right-of-ways for all to find!  It's simple and inexpensive but it brings a cheerful message to anyone who happens on one of these painted messengers.  Please see the guidelines below, as well as the "how-to" video generously created for us by the Fathoms O' Fun Royalty Court.

Even though this year has had challenges and many changes, let's show everyone that Port Orchard citizens can still stay positive while celebrating the holiday safely with family, friends, and neighbors.

The idea is to paint rocks with holiday pictures or words that would encourage someone who might happen upon it hidden away in plain sight in designated places in Port Orchard. A group took up this task a while ago in our town and it was a huge success!  Special thanks to all who took place in that effort.  Now, as we scramble to try to find ways to bring joy during our limited event, this idea has popped up again. Service organizations, churches, businesses and individuals are all encouraged to
get involved with this fun, cheerful effort!

Guidelines

Paint your rocks anytime.
No vulgar, offensive or inappropriate painting allowed.
Paint a holiday theme or simply paint a heart-warming message
Rocks may be hidden in the following city of Port Orchard locations: Van Zee Park at 300 Tremont Street, Central Park (Clayton Park) at 915 Dwight Street, Etta Turner Park, Givens Park at 1025 Tacoma Avenue, McCormick Village Park at 3201 SW Old Clifton Road, Rockwell Park at 1011 Bay Street, and along the waterfront and Bay Street Pedestrian Pathway.
Rocks maybe hidden from November 7 through December 31.
Have fun and be safe! The rocks may not be hidden on roads, roundabouts, private parking lots or businesses, or outside of City limits.

Send us your photos!

You may take a picture of your rock, or you and your family and/or friends with the rock, and send to

[email protected]

. The City will then post the picture to our website and social media. A Photo Release Form will need to be submitted with the photo if there are any people in the photo before we may post it to the website. (We will not post it without the form).
Rock images from Pinterest.