Thank you for all who took the time to complete the survey. Your ideas will help to shape our community events center! The survey is now closed.

Project Information
The South Kitsap Community Events Center will provide a central gathering place and multi-purpose facility in downtown Port Orchard that will support a multitude of functions for local and regional use. The facility will house the City's Regional Library branch and support the community through public use of event and meeting space both large and small.
In 2019, the Kitsap Public Facilities District allocated up to $12 million in phased funding to support this project. The South Kitsap Community Event Center will be the first-of-its-kind for the South Kitsap area. This project has the potential to build the economy, engage the community, and be a catalyst for other development in Port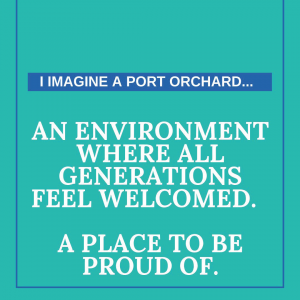 Orchard.
For more information about the project, please visit the Imagine Port Orchard website.
On September 22, 2020, the City Council approved a public participation plan that described the public outreach that would occur for this project.
On October 20, 2020, the City Council was provided a progress report on this project. Click here to review the report.