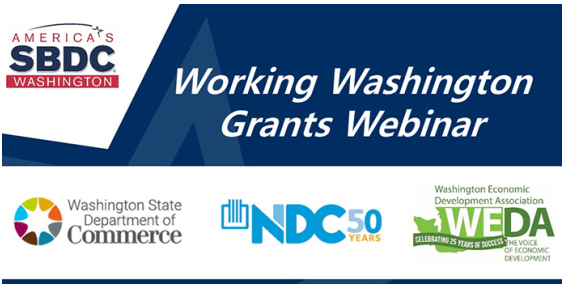 Do you own a restaurant, bar, fitness center, bowling alley or event venue? If so, get ready to apply for $20K tomorrow for the Working WA 3 grant.
Click here for more information and to apply:
http://startup.choosewashingtonstate.com/working-washington-round-3/
FOR IMMEDIATE RELEASE
CONTACT:  Western Washington University – [email protected]
December 2, 2020
PORT ORCHARD, WA – Up to $20,000 in emergency funding is now available to Washington State eligible small businesses in Round 3 of Working Washington Small Business Grants. These grants are prioritized for businesses in the sectors that are most impacted by the recent public health measures as well as businesses in sectors that have experienced significant, cumulative impacts.
The WA SBDC is conducting an informational webinar tomorrow (December 3, 2020) from 12-1 PM.  You can sign up here: https://wsbdc.ecenterdirect.com/events/99271315 For anyone applying, this is highly recommended!  There are a lot of questions for which we will hopefully have answers by tomorrow, or we can get them for you.
Despite application information that specifies a 2019 tax return being required, the DOC project manager assures that even businesses launched in "early" 2020 could submit what they have, e.g. an up-to-date income statement for 2020 and be considered.
Deadline: December 11, 2020
Please direct specific questions to [email protected].
No-cost business advising by registering as a client here: https://wsbdc.ecenterdirect.com/ClientSignupFull.action?CenterID=304
###